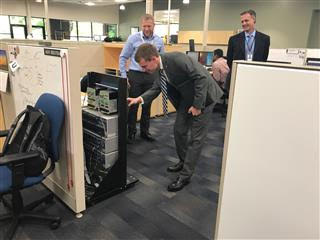 Visit #1: James Estes, Regional Representative for U.S. Senator Thom Tillis (R-NC), visited ESCA Board member Schweitzer Engineering Laboratories (SEL) Charlotte facility last week. SEL employee-owners and Government Affairs Representative Larry Camm spoke with the Senator's Regional Representative about the culture of employee-ownership and gave a tour of the SEL Charlotte facility.
Schweitzer Engineering Laboratories is a 100% employee owned S corporation that designs, manufactures, and supports a complete line of products and services for the protection, monitoring, control, automation, and metering of electric power. SEL is a U.S. based manufacturer of this equipment that is found in almost any critical infrastructure. Schweitzer Engineering Laboratories has over 3,000 employee-owners and over 90 in North Carolina.
We thank Schweitzer Engineering Laboratories for hosting Sen. Tills's staff and inviting the Senator to visit the facility to share their story of employee ownership.
*Photo: James Estes, from the office of Senator Thom Tillis, during a tour of the Schweitzer Engineering Laboratories Charlotte facility.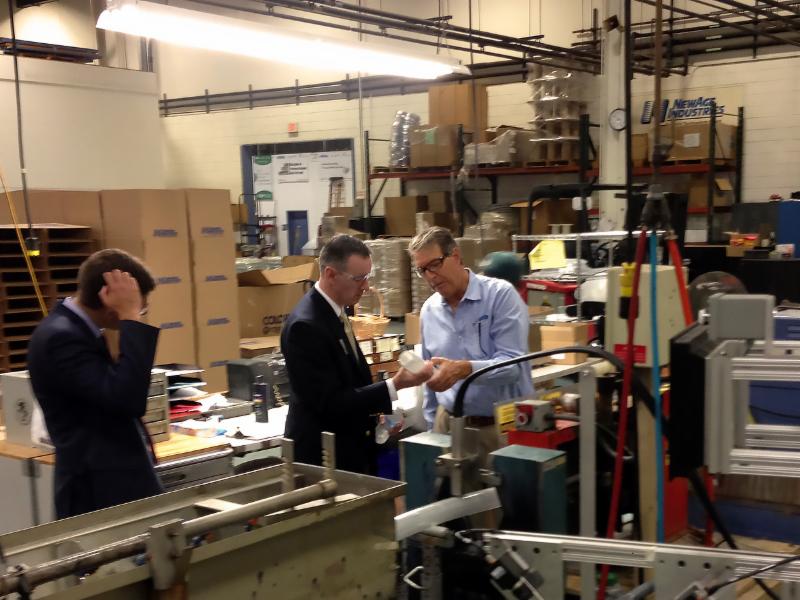 Visit #2: Congressman Brian Fitzpatrick (R-PA-6) visited ESCA Leadership & Development Councilmember NewAge Industries plant in Southampton, PA. The Congressman met with NewAge CEO Ken Baker and NewAge employee-owners to discuss ESOPs and the benefits and culture of employee ownership. Rep. Fitzpatrick is very familiar with ESOP issues and is a cosponsor of pro-ESOP legislation H.R. 2092, the Promotion and Expansion of Private Employee Ownership Act of 2017.
In business since 1954, NewAge Industries is a manufacturer and fabricator of thermoplastic and thermoset tubing and hose, and a supplier of fittings and clamps. The company offers one of the broadest product lines of tubing, hose, and fittings in the U.S., and its custom extrusion and fabrication services are unrivaled. The company is a family and employee owned business, with its corporate offices and state-of-the-art manufacturing center located in Southampton, PA. NewAge Industries has over 130 employee-owners at its Pennsylvania location.
We thank NewAge Industries for hosting Congressman Brian Fitzpatrick.
*Photo: Congressman Fitzpatrick tours the NewAge Industries plant.