We are pleased to announce that several of our earlier conferences Blue Ridge sponsored in the Spring & Summer 2020 were rescheduled and converted to virtual conferences. Blue Ridge professionals will be presenting at three of those conferences next week.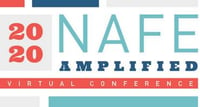 Dolores Lawrence will be speaking at next week's 2020 NAFE Amplified Conference. This conference is hosted by NIPA & WPB&C. Dolores will be speaking twice during this conference:
Monday, August 17: 11:45-12:35 p.m. "Eligibility & Coverage" - Who's the Participant? What seems like a straightforward question can, in reality, be a complicated issue. Dual eligibility and job or division classification exclusions can be effective plan design tools, but also add to the complexity of administering plans. Add in rehires, seasonal employees, controlled group and affiliated service group considerations and you can have additional challenges. In this session, the speaker will provide insight into dealing with eligibility and coverage issues.


Tuesday, August 18: 11:-05-11:55 a.m. "Considerations When Sponsoring an ESOP and a 401(k) Plan" - Many companies share ownership with their employees through the sponsorship of an ESOP. Most of those companies also sponsor a 401(k) plan. This type of combined retirement program can produce complications, pitfalls and special considerations for sponsorship and administration. This session will explore the key issues for the joint administration of both plans and their cohesiveness through a review of: plan design; compliance testing; and, situations unique to an ESOP as part of the benefit program.

Jon Williams will be representing Blue Ridge at the 18th Annual Vermont Employee Ownership Conference on Tuesday, August 18, and registration is still open. Jon will be sharing the "Repurchase Obligation Cliff Notes Version" during the "Table Topics" session.


Blue Ridge will be a sponsor and hosting a virtual booth during the 2020 Annual Ohio Employee Ownership Conference. Tom Roback and Kelly Fergus will be attending this conference on Thursday, August 20, and registration is still open. Tom will be presenting with Jim Bado of Workplace Development Inc. about "Employee-Owner Resilience" - During these challenging times, how do you cultivate resilience within yourself and your organization? Attend this practical session to gain real-world tips on how to become a more resilient employee-owned company and to learn successful strategies for utilizing remote communication tools to capitalize on your company's greatest strength: employee ownership.