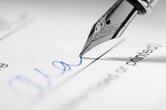 Are you tired of paying fees for former participants with small account balances? Are you concerned with uncashed distribution checks as you try to meet your obligations in finding participants who disappear? There are solutions.
First, know your plan's rules for handling missing participants and uncashed checks. Search on the words "missing, lost, unlocatable" in your plan and follow the plan's instructions on missing participants. Your plan may provide that after a diligent search, the account balance of a missing participant can be forfeited. Of course, the forfeiture would have to be restored and paid if the participant reappears later. Uncashed checks? The participants associated with those checks may be missing and an address search may be needed. While checks remain uncashed, they constitute plan assets, and there is a fiduciary responsibility for trying to reach the payees.
Second, draft your plan to allow for the transfer of a former participant's distribution amount to an Individual Retirement Account (IRA) designated by the Plan Administrator if the vested balance is $5,000 or less.
These are some examples where this procedure could be helpful:
The participant fails to return the distribution paperwork. The plan can be written to allow the distribution amount (if it is less than $5,000) to be rolled over to the designated IRA.
The participant elected distribution and failed to cash his distribution check in a timely manner. After a search, the participant is considered missing and nonresponsive. Assuming the payment was a mandatory distribution of $5,000 or less, the payment could be stopped and a check reissued to the IRA institution designated by the Plan Administrator.
Once the amounts are transferred, the rollover entity takes over all aspects of contacting and investing the participant's funds. Keep in mind that the institution selected by the Plan Administrator must meet Department of Labor requirements for handling automatic IRA rollovers. Some of these entities require a minimum rollover amount per participant. Some do not. These entities usually charge an annual fee which cannot exceed what is charged for comparable IRA accounts.
The IRA Rollover option could also potentially be used for a lost participant with a vested balance over $5,000 if a plan is being terminated. The DOL Field Assistance Bulletin 2014-01 outlines steps that a plan sponsor should follow. These steps include:
Use Certified Mail – this is an easy way to find out whether your address on file is valid.
Check Related Plan and Employer Records – it is possible that other benefit plans may have more up to date contact information.
Check with the Designated Beneficiary – in searching plan records, the plan sponsor must try to contact any individual designated as a beneficiary to find updated contact information.
Use Free Electronic Search Tools – reasonable use of free internet search tools, such as search engines, public record databases and social media (Facebook and others).
Even for an active plan, the steps listed above can be helpful in locating missing participants. Other steps? Assuming your plan does not permit forfeiture of missing participant accounts after a period of due diligence, funds associated with uncashed checks need to be returned to the plan. Consider posting the unclaimed accounts on the National Registry of Unclaimed Retirement Benefits. The site allows employers to list the accounts and employees to search for unclaimed accounts at no cost.
Blue Ridge ESOP Associates offers full service distribution services which includes mailing of distribution forms, handling withholding (state and federal), preparing/mailing checks and preparing tax forms. We can also incorporate the automatic rollover procedures discussed above. If you would like more information please contact your Blue Ridge Administrator.