Please note the following article is directly from The ESOP Association which was posted May 19, 2023.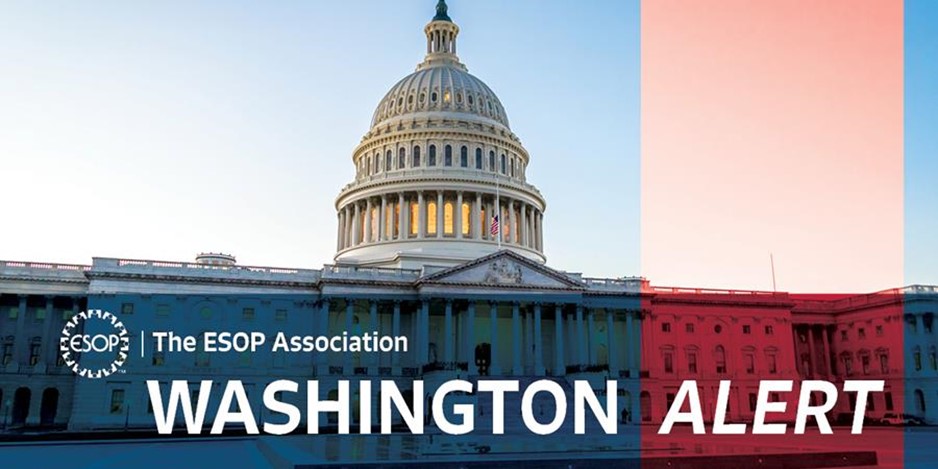 The ESOP Association Applauds Introduction of New Bipartisan Legislation to Grow Employee Ownership in America
Employee Equity Investment Act Would Expand Employee Ownership

by Increasing Critical Access to Capital for ESOPs
In case you're not with us at TEA National Conference, we have big news from Washington, DC.
The ESOP Association applauds the introduction of the bipartisan Employee Equity Investment Act (EEIA), introduced this week in the House and Senate.
The legislation aims to grow employee ownership in the U.S. by helping to dramatically improve the way new ESOPs are financed by providing much-needed access to capital, which has long been an impediment to new ESOP formation.
The Employee Equity Investment Act would use the SBA's Small Business Investment Company (SBIC) program to provide up to $5 billion in loan guarantees for private investment funds called Employee Equity Investment Companies (EEICs) devoted to boosting employee ownership. EEICs must invest 75 percent or more in transactions that either finance the transition of businesses to greater than 50 percent employee ownership or provide capital to companies that are already more than 50 percent employee-owned to enable growth and sustainment. Fifty percent or more of EEICs' investments must be for conversions to employee ownership.
The EEIA would also create an Office of Employee Ownership within the SBA to help small businesses explore sales to ESOPs or worker-owned cooperatives. The Office of Employee Ownership would provide outreach and education about the EEIC program while also offering technical assistance and training on employee ownership transition.
In addition, the EEIA also includes important safeguards so employee owners are protected and in control of their ESOPs, a key priority as The ESOP Association worked collaboratively with the bill's main sponsors to develop the legislation.
"Access to capital is one of the final missing pieces needed to spur a wave of new ESOPs, and the Employee Equity Investment Act is a bold, substantive step to improve the ESOP financing landscape," said Peter Ney, Chair of TEA's Public Policy Committee and EVP & Treasurer of EA Engineering, Science and Technology Inc. "The ESOP Association's Public Policy Committee has closely studied issues related to access to capital for ESOPs, and addressing this matter is a cornerstone of TEA's policy agenda. Members of Congress, both House and Senate, who developed this bill should be applauded for their leadership."
Congressional leaders and many states have made growth in employee ownership a priority over the last several years, most recently with passage of SECURE 2.0, which was included in the Consolidated Appropriations Act of 2022. That legislation aimed to resolve several longstanding regulatory hurdles to ESOP formation regarding ESOP valuations and the tax treatment of ESOP S-Corporations. The Employee Equity Investment Act, by contrast, directly addresses ESOP financing and would make ESOPs a much more attractive option for business succession and conversions by opening previously unavailable or impractical sources of capital. By motivating private capital investment, the bill would also operate at no cost to taxpayers.
The Senate bill (S. 1618) is led by Senator Chris Van Hollen (D-MD), with Senator Marco Rubio (R-FL) the lead Republican sponsor. The House companion bill (H.R. 3383) is led by Rep. Dean Phillips (D-MN), with Rep. Blake Moore (R-UT) lead Republican sponsor. Other original cosponsors of the Employee Equity Investment Act are Senators Tammy Baldwin (D-WI), Todd Young (R-IN), Jeanne Shaheen (D-NH) and Mike Braun (R-IN), along with Representatives Chrissy Houlahan (D-PA) and Dusty Johnson (R-SD).
"The ESOP Association's membership fully supports and endorses the bipartisan Employee Equity Investment Act," said Jim Bonham, President and CEO of The ESOP Association. "This important bill addresses a critical factor currently constraining ESOP growth – access to capital. If the Employee Equity Investment Act becomes law, the known benefits of employee ownership could be extended more broadly nationwide. Workers, families, businesses, and the communities in which they live and operate will all benefit.
"The ESOP Association appreciates the work of the sponsors in reaching out to the employee ownership community to develop this bill, and TEA is grateful to the bipartisan congressional champions who have found common ground around ESOPs. The bill's introduction and strong initial bipartisan support in both the House and Senate is an important first step in what is sure to be a long process, but it's great news for ESOPs and a clear sign of continued congressional support of employee ownership. We look forward to working with Senator Van Hollen, Rep. Phillips, and all the congressional sponsors to support passage of the EEIA."