Good News for Safe Harbor 401(k) Plans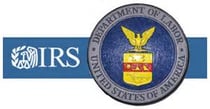 The IRS has issued a proposed regulation that will permit forfeitures to be used to satisfy safe harbor contributions. This is welcome news for 401(k) safe harbor plans that hold employer match or discretionary profit sharing money that was subject to a vesting schedule when contributed to the plan. While many 401(k) plans permit forfeitures to be used for plan expenses or other non-safe harbor employer allocation purposes, the proposed regulation gives plan sponsors another option – use forfeitures to fund safe harbor contributions.
The regulation will become effective for taxable years after it is published in final form. However, plans are permitted to follow the proposed regulation now. For those funding a safe harbor match each pay period, this means you might be able to use available forfeitures to offset these contributions now. Check with your plan document provider to confirm this. If your safe harbor match or safe harbor non-elective contribution is funded in your ESOP, check with legal counsel.
If your plan is on the Blue Ridge ESOP Associates volume submitter document for 401(k) plans, you can immediately start using available forfeitures to fund your safe harbor contributions. We will be executing a plan amendment on behalf of all sponsors using our document service that will incorporate the provisions of the proposed regulation and we will provide you with a copy of the amendment.