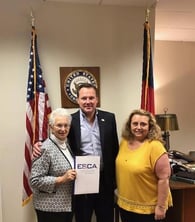 Salem Distributing Company, Inc. took initiative to meet with their Congressional representative last week. Below is an update from ESCA regarding their visit:
Last week, ESCA member company Salem Distributing Company, Inc. met with Congresswoman Virginia Foxx (R-NC-5) in her district office. Because Congresswoman Foxx chairs the Committee on Education and the Workforce, which has jurisdiction over Department of Labor issues, Salem Distributing CEO Mike Willard and Controller Gale Marett focused their discussion on the Department of Labor's approach to ESOPs. Our goal for this meeting was to encourage Congresswoman Foxx to convey her support for ESOPs and concerns about aggressive enforcement efforts to Secretary Alexander Acosta. We appreciate her willingness to speak with Secretary Acosta on behalf of ESCA member companies and look forward to continuing to work with her on DOL and other issues in the future.
Salem Distributing Company is a 100% employee-owned international company with a support staff of 50 employee owners in the Winston-Salem, North Carolina corporate headquarters. In addition, sales representatives and support staff are strategically located throughout the United States and Canada with warehouses maintained in Winston-Salem, NC, Los Angeles, CA and Toronto, Canada. The company works in four distinct industries: glass, stone, precision electro-optical and ophthalmic.
*Photo: Congresswoman Virginia Foxx, Salem Distributing CEO Mike Willard and Salem Distributing Controller Gale Marett.