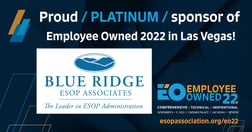 Blue Ridge ESOP Associates is committed to staying active in the ESOP Community. We are proud to be a Platinum Sponsor for this year's Employee Owned Conference, sponsored by the ESOP Association, which is coming up on November9-11. Several of our employees will be doing presentations and attending this conference.
Carla Klingler, "Roundtable: New ESOPs Questions & Best Practices"- November 10 @ 9:45 a.m.
Pete Shuler, "Don't Do That With Your ESOP – Avoiding Mistakes" - November 10 @ 11:00 a.m.
Randy Shrake, "The Basics of ESOP Distributions"-November 10 @ 2:00 p.m.
Dolores Lawrence, "Getting Your ESOP Off to a Good Start"-November 10 @ 3:15 p.m.
Renee Stadtmueller, "ESOP Distribution - Advanced"-November 10 @ 3:15 p.m.
Barbara Clough, "Funding ESOP Distributions -- What You Need to Know"- November 10 @ 4:30 p.m.
Scott Freund, " Pitfalls to Avoid in 409(p)"-November 11 @ 9:30 a.m.
Are you attending the conference in Vegas? Stop by booth 114 and enter your business card for a chance to win our raffle prize and visit with our President and Regional Sales Directors - Tom, Chad, Marie and Carla.