From golf courses to conference rooms, there are multiple upcoming events where you can meet a Blue Ridge ESOP Associates' professional and learn how to manage your ESOP & 401k the smart way.
Iowa-Nebraska Chapter Celebration Summer Event - June 19, Ankeny, IA - Chad Guzinski & Scott Freund will be in attendance for the morning sessions and hitting the golf course in the afternoon.

NCEO Webinar: Re-Thinking Your ESOP Plan Design and Operations - June 25, 12:30-1:30 EDT - This webinar will be led by Dolores Lawrence. There is no fee to attend. Please contact Jordan Boone, Event Coordinater at jboone@nceo.org or 510-20-1309. Mention this offer from Blue Ridge and the NCEO will provide you with access information. If you are a NCEO member, you may simply access the webinar through the NCEO member's area. The NCEO's live webinars are approved for Continuing Education credit for SHRM, CPE, and occasionally IRS credit hours. Please click here to see additional details on the NCEO web site.
Illinois Chapter - 14th Annual Golf Fundraiser Tournament - July 10, Bloomingdale, IL - Chad Guzinski will be in attendance for this event.
Mid-Atlantic Chapter - Summer Breakfast Meeting - July 18, Columbia, MD - Tom Roback will be in attendance for this breakfast hosted at Wells Fargo Advisors.

Northwest Chapter - ESOP Conference - July 25-26, Spokane, WA - Blue Ridge is proud to be a sponsor for this conference. Randy Shrake and John Korlock will be attending this event.
Heart of America - 20th Annual Fall ESOP Conference - September 4-5, Kansas City, MO - Chad Guzinski will be attending this conference. Anthony Brunsvold will be speaking on "Creative Contributions and Segregations"
Carolinas Chapter - Fall Conference - September 5-6, Greensboro, NC - Dolores Lawrence and Tom Roback are planning on attending this conference.
Midwest Regional Conference - September 11-13, Minneapolis, MN - Several Blue Ridge professionals will be attending this conference. Scott Freund will be speaking about "Basic ESOP Distribution Rules". Renee Stadtmueller will be speaking about "ABCs of ESOPs for Plan Participants". Pam Themar will be speaking about "ESOP Terminology 'Re'view".
Southwest Chapter - Fall Conference - September 13, San Antonio, TX - Chad Guzinski is planning to attend this conference.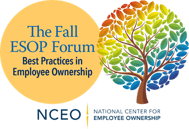 The Fall ESOP Forum - September 17-18, Salt Lake City, UT - Join Blue Ridge at this event sponsored by the National Center for Employee Ownership (NCEO). Marie Sherlock will be attending and Renee Stadtmueller be leading the session "Administrative Timeline". The Fall ESOP Forum will be held at the Hilton Salt Lake City Center in Salt Lake City, UT on September 17 & 18, with an optional Preconference on September 16. Both experienced attendees and newcomers will leave the Fall ESOP Forum better informed and prepared to evaluate and implement the next steps for their companies. With 48 sessions over two days, attendees can get a well-rounded introduction to all aspects of ESOPs, or they can dig deep on specific issues, from governance to sustainability to communications. Also offered are two optional half-day preconference sessions for additional learning opportunities: Essentials For a Sustainable ESOP and A Crash Course For ESOP Communications- Jumpstart Your Communications and Culture. If you are interested, the Fall ESOP Forum is approved for CPE credit (for accountants) and SHRM credit (for human resources professionals). .

Multi-State Conference (PA/DE and NY/NJ Chapter Meeting) - September 18-20, Pocono Manor, PA - Tom Roback will be attending this conference.
Not all of the final agendas have been posted, so additional members of our team might be attending and speaking at these events. Make sure you follow us on Twitter or Facebook for more current information regarding upcoming conferences!