Industry-wide trends show that plan participants have significantly increased their use of mobile devices. In response to these evolving technological preferences, Blue Ridge ESOP Associates is pleased to announce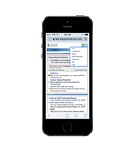 that ESOPConnection, the leading online access portal for ESOP participants, is now mobile-ready on over 30 different devices.
Plan participants with compatible devices can now complete beneficiary forms, online distribution elections, and access their ESOP account statement on their mobile device. The mobile version of the site adapts to the screen size of the device, and utilizes media query technology to dynamically set the display for the best mobile experience possible.

Blue Ridge ESOP Associates was proud to be the first-to-market with an online portal for ESOP participants, and we always aim to lead with superior technology. Future enhancements will aim to develop mobile-ready support for administrative tools as well as mobile alerts and text notifications.