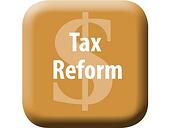 Congratulations to The ESOP Association, ESCA and all of the active ESOP companies who have been telling their successful ESOP stories to our elected officials. Dave Camp, the Chairman of the House Ways & Means Committee, released his tax reform proposal and he basically left ESOPs alone. Camp's tenure as Chair ends this year, but he is eager to leave a legacy. His propsal offers a rate cut for C Corporations to 25% phased in over 5 years, a 10% surtax for high income tax filers, simplification of individual rates to a 10% or 25% bracket, and curbing tax "expenditures" like the mortgage interest deduction. The only notable provision that directly affects ESOPs in this discussion draft is that companies who are less than 100% ESOP-owned S Corp.s could pay at a higher tax rate then comparable C Corporation ESOPs.
However, the proposed changes in the retirements savings area were hit hard. This draft would cut in half the current maximum pre-tax elective deferral for 401(k) contributions making the other half after-tax dollars. This savings would generate almost $144 billion over 10 years and would help pay for the overall rate corporate rate cut.
Even though the House does not have plans to vote on this proposal this year, it could provide a framework for future tax reform. Tax reform is inevitable so the ESOP community must stay vigilent and continue to invite elected officials in for company tours to see how productive and important the ESOP is to your company.
Thomas Roback, Jr., CEP, QKA
Blue Ridge ESOP Associates