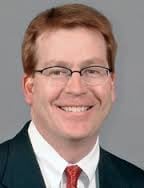 CHARLOTTESVILLE, VA – June 17, 2021: Blue Ridge ESOP Associates ("Blue Ridge"), the leader in ESOP administration, announced today the hiring of Bill Yoerger as CEO of Blue Ridge and Coastal Pension Services ("Coastal"). In his new role, Yoerger will lead Blue Ridge and Coastal in servicing their nearly 2,000 ESOP, 401(k), Money Purchase and Defined Benefit Plan customers and continue to grow the business both organically and through strategic acquisitions in the retirement industry.
Yoerger most recently worked at Fisher Investment Institutional Group helping to build out an innovative and unique managed account offering.
Prior to Fisher investments, Yoerger was President of OneAmerica Retirement Services leading growth from $7 Billion to over $56 Billion in assets, administered 10,000 plans and increased participants from 400,000 to 1.2 million in 401(k) ,403(b), 457, ESOP, Defined Benefit and Cash balance plans. Additionally, under his leadership they acquired and integrated McCready & Keene, City National Bank Retirement Services and BMO Retirement Services. He has over 35 years of retirement industry experience, is a nationally recognized thought leader, and has served on the Board of SPARK, LIMRA Retirement Committee, and numerous industry committees. He began his career with Principal Mutual after majoring in Business Administration from The Ohio State University.
"I'm thrilled to be joining Blue Ridge and Coastal to help them continue to grow by leveraging a high touch, high quality service model supported by industry leading technology" said Yoerger. "Blue Ridge and Coastal are highly respected in their respective areas, and I could not be more excited to help them with continued growth, acquisitions, and success."
Tom Roback, President of Blue Ridge, said "We are pleased to have Bill join our already successful team as we continue to be the leader in ESOP administration. His experience and leadership aligns with our strategy for continued ESOP and 401(k) growth." Pam Walker, President of Coastal, said "We are very excited to have Bill become part of the Coastal and Blue Ridge team. Both of these businesses offer high touch, close personal service to loyal clients, and I know Bill shares this same vision."
About Blue Ridge ESOP Associates: Blue Ridge is the leading provider of technology enhanced solutions and services for the administration and recordkeeping of Employee Stock Ownership Plans ("ESOPs") and associated 401(k) plans. Blue Ridge's comprehensive service offerings and highly experienced professional administrators address the complex and mission-critical needs of ESOP businesses, which has provided the Company with an unmatched reputation as the highest quality service provider in the market. The Company serves a large and diversified client base of over 850 ESOP & 401(k) Plan Sponsors with over 200,000 total plan participants. Founded in 1988, Blue Ridge is headquartered in Charlottesville, VA and has offices throughout the country.
About Coastal Pension Services: Coastal specializes in the design and administration of retirement plans and has served the mid-Atlantic business community consistently since 1989. Its industry professionals are some of the most tenured in the region, averaging over 25 years of retirement plan experience and offering an unrivaled depth of insight and expertise. Today, Coastal's employees serve over 800 clients with nearly 60,000 plan participants and approximately $1.5B in assets under administration.