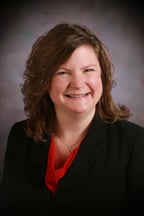 Blue Ridge ESOP Associates is pleased to announce the addition of Renee M. Stadtmueller to our team as a Director of Plan Administration. Renee is a Certified Public Accountant (CPA) as well as a Qualified Pension Administrator (QPA). She has over 18 years of experience in the retirement industry and brings to Blue Ridge ESOP Associates a robust background in providing technical, administration and consulting advice to ESOP clients. Her office will be located in Menasha, Wisconsin.
As a member of our team, Ms. Stadtmueller will provide ESOP design and consulting services, specialty services and plan administration and compliance services. Her extensive ESOP experience and expertise will enhance the full range of services we offer to help clients maximize the benefits of the ESOP for their employee-owners.
Ms. Stadtmueller is a member of The ESOP Association and is a frequent speaker on ESOP administration topics for both The ESOP Association and the National Center for Employee Ownership. She is the previous Vice President of Programming for the Wisconsin Chapter of The ESOP Association and current Executive Committee member. She has also served as the Chair for the Education & Examination ESOP Certificate Subcommittee for the American Society of Pension Professionals & Actuaries (ASPPA). Ms. Stadtmueller received her Bachelor of Business Administration in Accounting and Finance from the University of Wisconsin-Oshkosh.